Approved clinical trial at GOSH
First-of-its-kind clinical trial at GOSH gives hope of treatment for notoriously difficult to treat childhood cancer.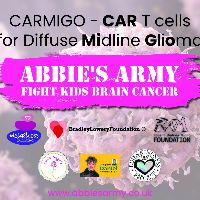 Further to the annoucement we made back in April regarding our first pledge, we are pleased to let you know the immunotherapy CAR-T cell clinical trial at GOSH has finally been approved - a UK first-of-its-kind.
We all wish the children, families and medical team successful outcomes.
We are and always will be profoundly grateful to our supporters fundraising for RAM. Unsurprisingly, at times it has been gruelling. However, the fight against this destructive disease isn't over and so we ask you to please continue supporting RAM Foundation. 
We feel a sense of joy to be part of this family / charity led endeavour, collaborating with fantastic, tireless charities such as Abbie's Army. Working together pushing for progress change happens and you have all played a crucial role.  
We think of Bobo and all the other children sadly lost during this Childhood Cancer Awareness month. 💚 
https://www.gosh.org/media-centre/first-of-its-kind-clinical-trial-at-gosh-gives-hope-of-treatment-for-notoriously-difficult-to-treat-childhood-cancer/